BetKing is one of Nigeria's newest bookmakers. It began operations in Lagos, Nigeria, in early 2018 and has risen to become one of the country's leading betting platforms. The bookmaker continues to attract numerous users to its platform due to its comprehensive sportsbook, high odds, a wide variety of betting markets, and numerous bonuses and promotions.
It is no surprise to find many punters thronging to BetKing to become its customers. If you want to become a BetKing user and wonder how you can do just that, you will find all the answers you need in this article. In it, there are guidelines for how to complete your registration with the platform, either as a user of the site or as one of its agents. Read on to discover more.
How to Complete Your BetKing Online Registration
To get started with your BetKing account registration, you must visit the website by inputting the site URL, www.betking.com, on your browser. This takes you to a page where you will see an option to register online and another option to become an agent. Click on "Register Online," which is the option for those who want to become BetKing customers and wager on their favorite games on the site.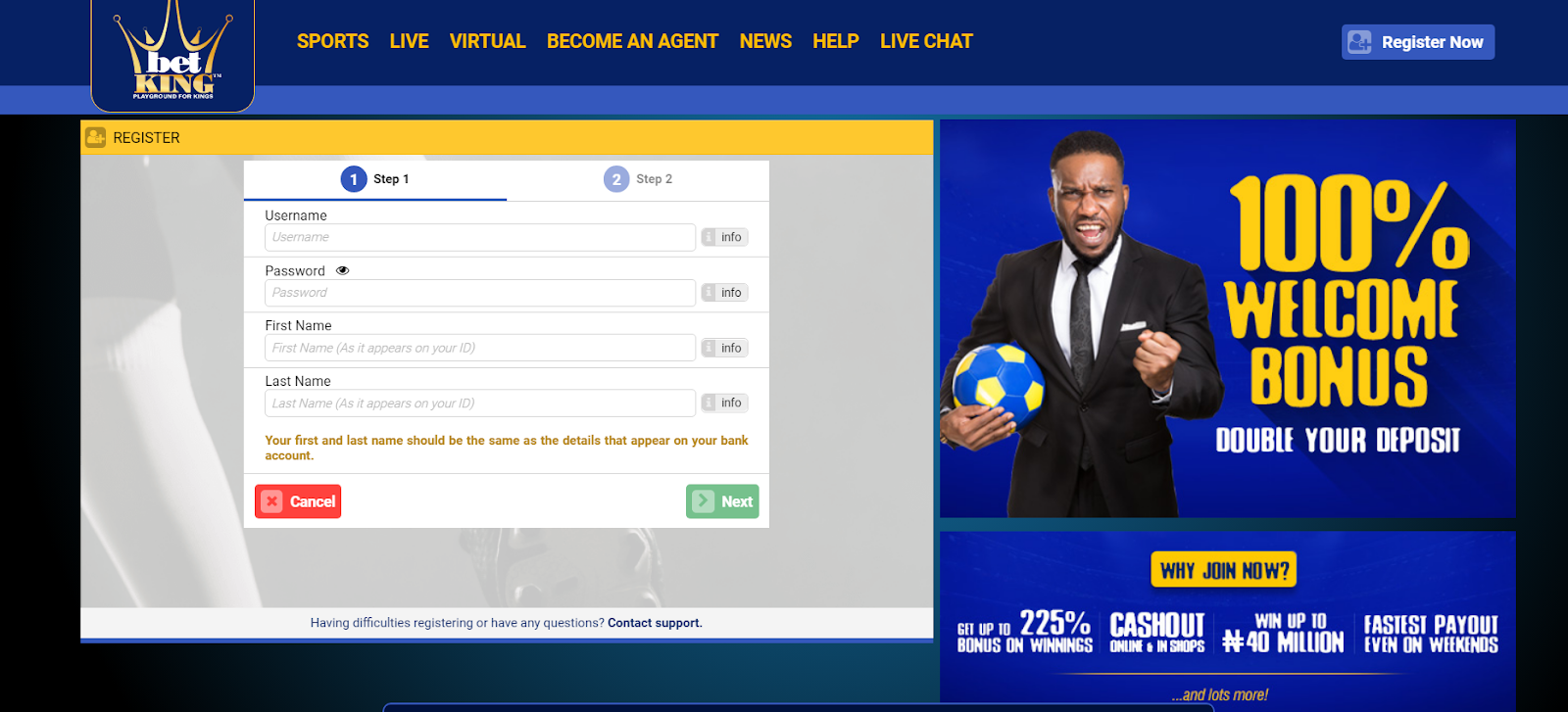 After clicking on the option, a page will be displayed, which shows a form you must fill in two steps. Step one requires you to input details like username, password, first name, and last name. The second step requires you to input your mobile number, email address, date of birth, and state of residence.
After inputting all these details, you have to tick the box that confirms that you are at least 18 years old and accept the site's age verification policy. If you have a verification code, you also need to tick the box designated for it. After doing these, you click on submit. You will receive a confirmation message on the screen and a confirmation mail to your email address. Confirm the link sent to your email address. After confirming, go back to the website and login with your username and password. You are now a BetKing user.
BetKing Registration Bonus
BetKing Nigeria rewards its online users with a 100% welcome bonus when they make their first deposit. This bonus doubles the amount of their first deposit. For example, a new user who deposits 1000 Naira after registration gets 2000 Naira. The welcome bonus goes all the way up to 100,000 Naira and applies to all new users who make their first deposit no matter the amount they deposit. With this, the bookmaker makes its users' experience enjoyable after they sign up on the BetKing register.
How to Complete Your BetKing Agent Registration
BetKing agent registration gives people the opportunity of owning their personal business by partnering with the bookmaker. If you are interested in becoming a BetKing agent, the company is ready to train you qualitatively, while its unique product offerings and excellent customer support will make things easier for you. To become the bookmaker's agent, you will have to visit the website and register.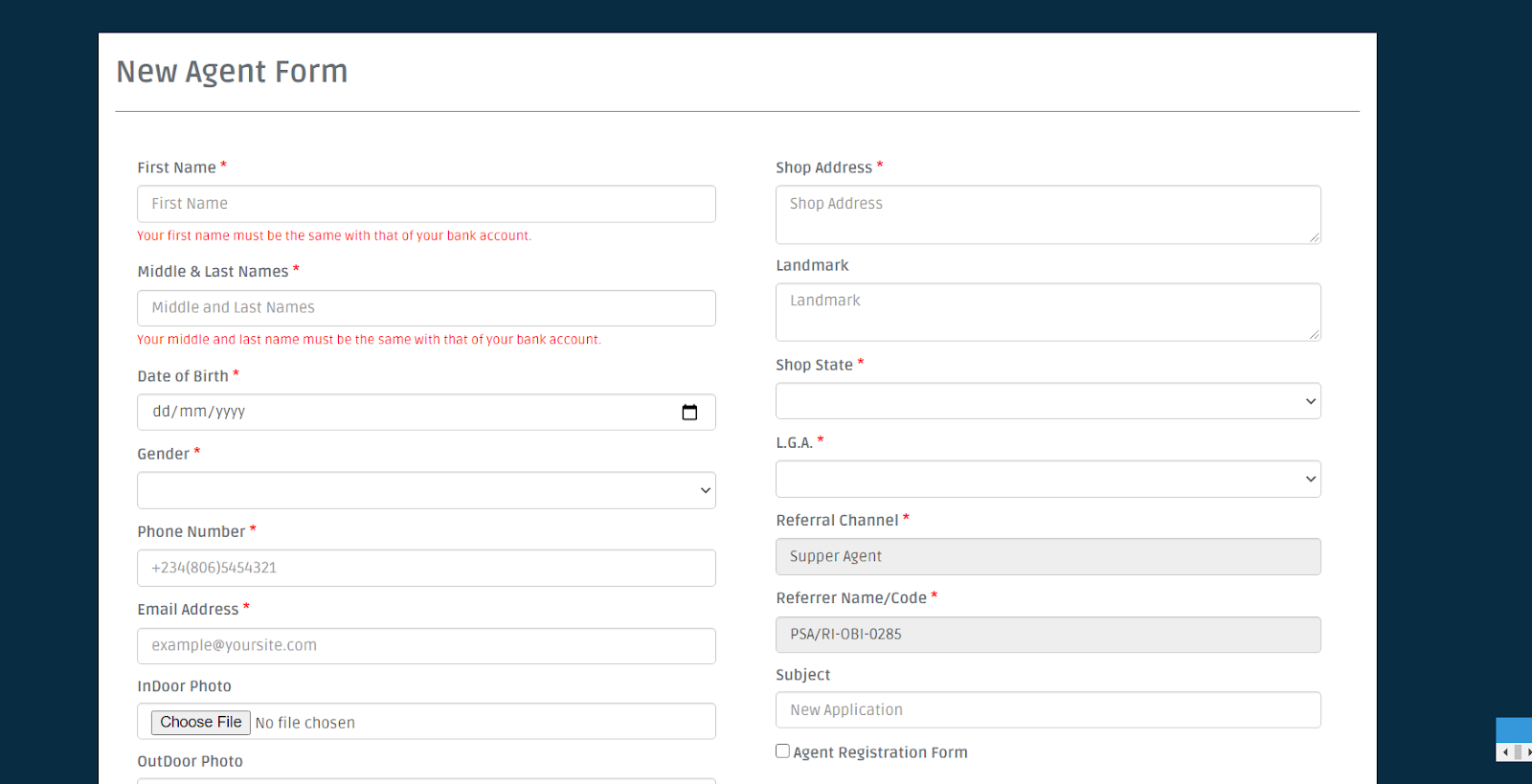 To register, click on "BetKing Agent Registration Form." It takes you to a page you have to fill on the site to complete your registration. On this form, you should enter personal details like your name; last name; date of birth; gender; email address; phone number; prospective shop address; a landmark close to the shop address (optional); the state where your shop is located; referral channel; referral name or referral code. You are also to provide pictures of your shop indoors and outdoors on the form. After attaching the photos, you click on submit. You can also register via Whatsapp by sending the above details to 09025520833 or 07068448777.
After registration, you may be presented with one of the following to show the status of your application:
Call Validation: It means your application has been received and is under review.
Sent for Inspection: The company's representative would visit your shop on a specific data for inspection.
On Hold: You are yet to provide specific information or feedback to the company on a pending issue.
Unreachable: There is still pending information you are yet to provide. You can avoid "unreachable" and "on hold" by attaching pictures of your shop to complete your registration.
Rejected: This means you provided incomplete information or your application did not meet the bookmaker's requirements.
Approved: You have passed the inspection phase and have become a BetKing agent. The bookmakers will create an account for you and notify you.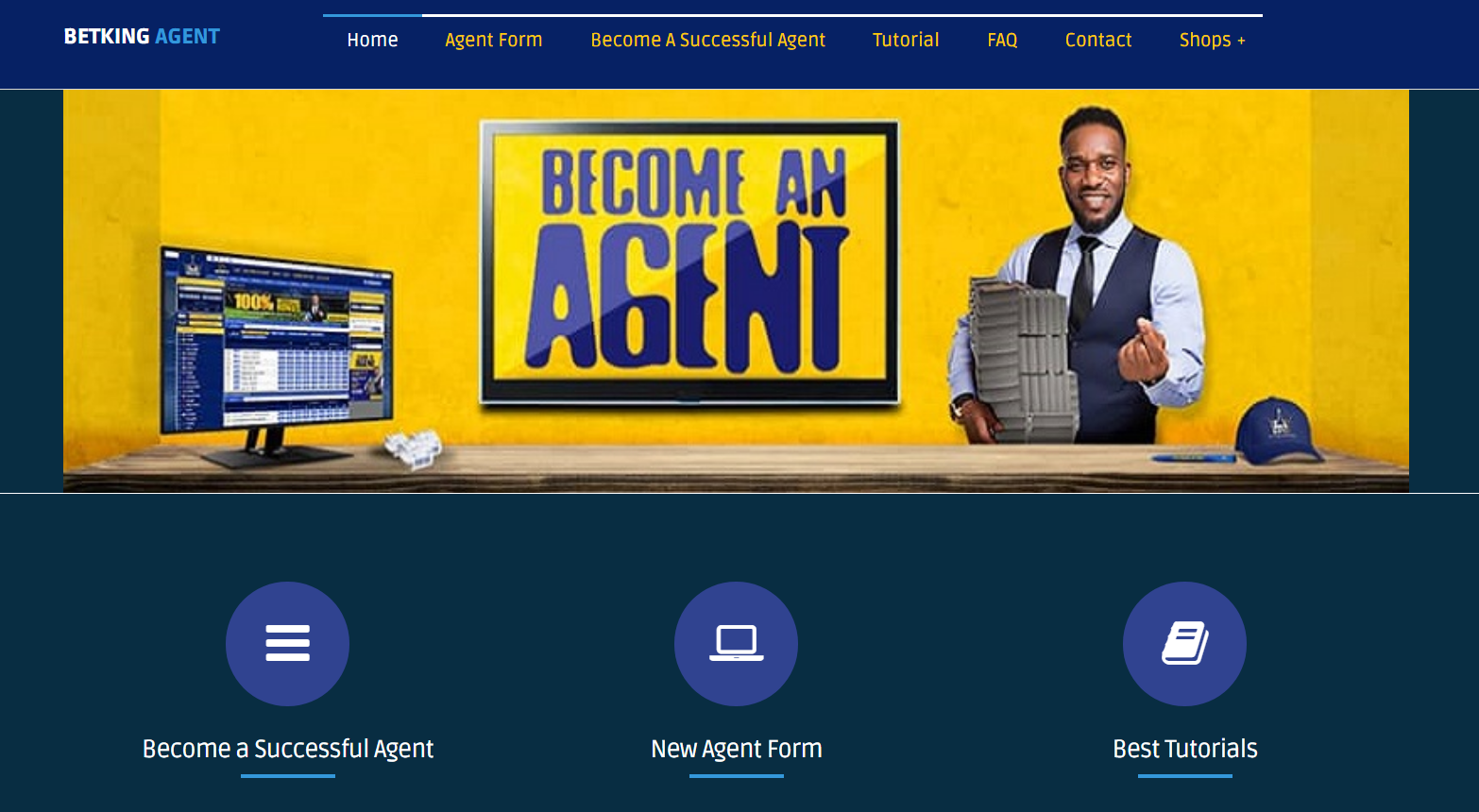 Benefits of Becoming a BetKing Agent
You will enjoy the following benefits when you go into partnership with BetKing:
You will receive qualitative training and incentives to boost your success as a BetKing agent.
You have no risks or liabilities for winning bets.
The bookmaker has the fastest payouts even on weekends.
You will enjoy up to 30% commission on sports products. The number of games per ticket determines this bonus. Thus, you can earn from every ticket you print in your shop.
The company has the best and competitive bonus structure among bookmakers.
BetKing has top-notch sports betting software.
It has unique and competitive odds, so you are guaranteed to have customers.
The website is flexible and easy to use.
Punters also enjoy the best virtual games and will throng to your shop to play these games.
BetKing continually develops its software and product offerings.
To increase your chances of becoming an agent, ensure you meet the specified requirements, get a good shop before applying to become one. Good luck on that.
Conclusion
You now know how to join BetKing either as a punter or as an agent. Whichever one of these you wish to become, the steps are easy and take no time at all. You will also get to enjoy massive rewards and benefits by joining BetKing. So, don't waste any time at all. Sign up with the fastest-growing betting platform in Nigeria, and you will be glad you did.